REPRESENTED ARTISTS
Haider Jabbar
EXHIBITED ARTISTS
Kurt Ryslavy
Michel Couturier
Pinar Ogrenci
Sofie Vanderlinden
Tim Volckaert
Tushikur Rahman
(GB) CAMOUFLAGED PEARLS
In CAMOUFLAGED PEARLS BruthausGallery brings twelve international artists together. Artists with close ties to the gallery as well as those that will be assigned a project there in the near future. BruthausGallery reveals what it stands for through the choice of the works: uncovering the identity of the artist and how he or she relates to these turbulent times.
To do so BruthausGallery selects 'pearls of works' that effectively expose the artist's identity. Sometimes unpleasant, sometimes beautiful, sometimes doubtful, but above all 'emerging'. They concern works that situate the artist in his or her environment, covered, hidden pearls from the studio, with a deeper, obligatory meaning.
By confronting these works with each other BruthausGallery also confronts the artists and their specific issues. CAMOUFLAGED PEARLS brings together the work of 12 international artists.
(NL) CAMOUFLAGED PEARLS
In CAMOUFLAGED PEARLS brengt BruthausGallery twaalf internationale kunstenaars samen. Kunstenaars vast verbonden aan de galerij maar ook kunstenaars die er in de nabije toekomst een project krijgen.
Door de keuze van het werk toont BruthausGallery waarvoor het staat: het tonen van de identiteit van kunstenaar en hoe zich die verhoudt ten opzichte van woelige tijden. BruthausGallery kiest hiervoor 'pareltjes van werken' die heel dicht de identiteit van de kunstenaar blootgeven. Soms wrang, soms mooi, soms twijfelend maar vooral 'emerging'.
Het zijn werken die de kunstenaar in zijn omgeving situeren, bedekte, verborgen parels uit het atelier met een diepere, niet vrijblijvende betekenis. Door deze werken met elkaar te confronteren, confronteert BruthausGallery ook de kunstenaars en hun eigen problematiek met elkaar.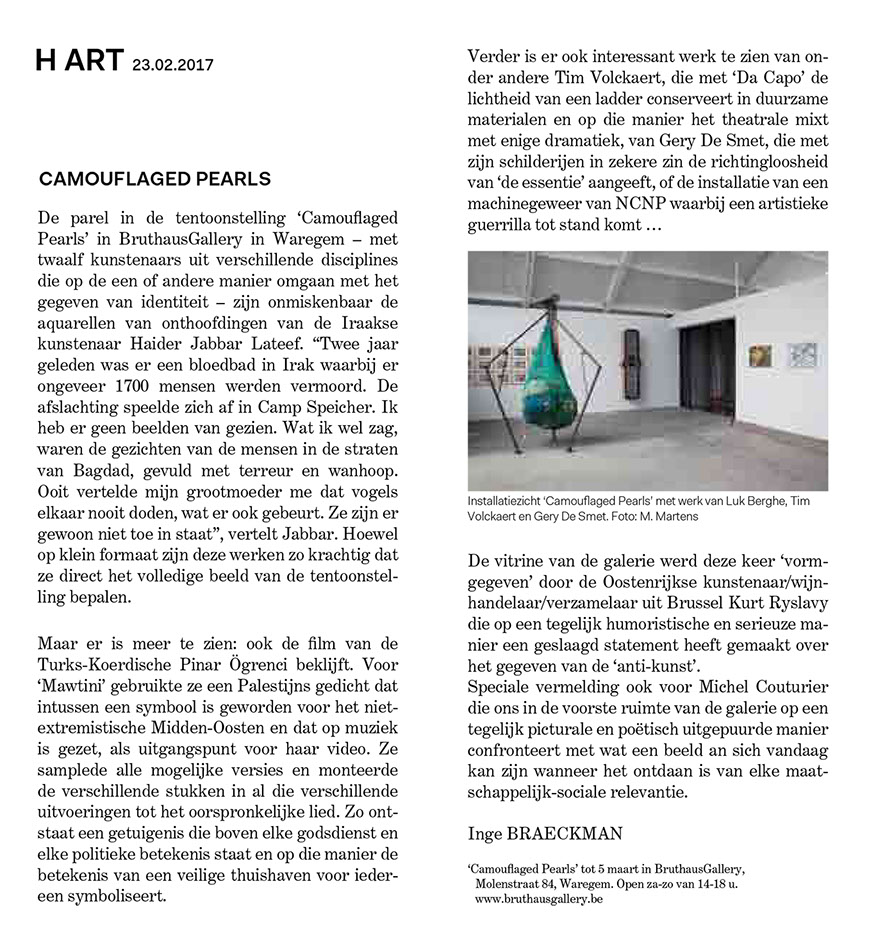 Through the Looking-Glass
Michel Couturier
Artist Book Release - co-edition ARP2 éditions & MER. Paper Kunsthalle
Michel Couturier travelled to Calais, from Calais to Dover and from Dover back to Calais. ..:
'The project for this book has a programmatic quality, like a prefiguration of future works. Perhaps it also works like a mirror—like an optical machine in any case—that brings together distant things, various times, experiences, places, and forms (drawings, photos, writing, etc.), and that's exactly what Michel Couture set out to do. He's trying to find temporal breadth in these places, and (re)discover their meaning, which is perhaps more lost than concealed. ' (M.Couturier)
Webdesign en fotografie: www.margotmartens.be